Tire Rotation Service at Berman INFINITI of Niles
---
Do you really need to rotate your tires? If nothing's broken, why fix it? Tire rotations are meant to extend the life of your tires. Unlike regular require maintenance, which can prevent your vehicle from creating a dangerous situation or causing your vehicle to breakdown, tire rotation is about creating even tire wear so that you don't need to make an expensive investment in a whole new set. The expert team at Berman INFINITI of Niles is capable or doing tire rotations in our Express Service facility. Call us at 847-499-1524 or visit us today at 5733 W Touhy Ave in Niles!
When you drive, your front tires do all the cornering while your rear tires, in most cases, are merely following. This means the edges of your front tires wear out faster, and unevenly from the rear tires. Our Service Center's INFINITI certified technicians will rotate your tires, front to back, so that the unworn tires have their chance to take on the extra pressure of cornering, and your rear tires get a break. When done right, you'll get the maximum lifespan from your tires and will switch them all out at the same time.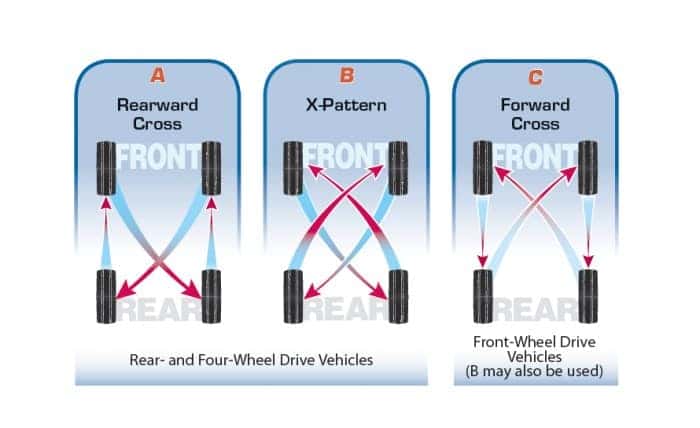 There are a few ways to rotate your tires:
Rearward cross: for 4-wheel, all-wheel, or rear-wheel drive
X pattern: for front-wheel drive vehicles such as light-weight trucks and sedans
Forward cross: this is the most common pattern for front-wheel drive vehicles
Schedule your next visit over the phone at 847-499-1524 or online with our easy online tool to get your tire rotation done today!