Employee Spotlight – Julian Tiplea (Service Director)
At Berman INFINITI Chicago, we're always excited to bring in new talent. This month, we wanted to take the time to highlight a new team member who's ready to hit the ground running. Finding the right fit to manage our service department was important for our team. We believe Julian Tiplea has a terrific skillset to deliver superior customer service moving forward. Prior to his new role, Julian was OEM Program Manager for XTime. Julian also held Service Manager positions at INFINITI of Chicago and INFINITI of Lisle. We look forward to a bright future welcoming Julian back to the Berman team. Recently we sat down with Julian to discuss his experiences in the auto industry and his excitement of joining the team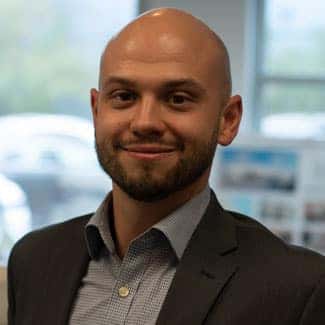 Q: How and why did you get started in the auto industry?
I started in the auto industry in 2004 working as a service drive assistant at a Chicagoland INFINITI dealership.
Q: What separates Berman Auto Group from other dealerships?
There are many family-owned dealer groups in Chicagoland, but few make a difference in the Chicago communities where they reside like the Berman Auto Group does. I am glad to be a part of that to help progress and assist our customers, and the communities and families where they reside.
Q: What has you most excited about working with Berman?
Working in Chicagoland – after traveling to over 1,000 automotive dealerships in the continental US, I am most excited to be home; working alongside folks like myself who reside in IL and who are here to assist our INFINITI clientele in the greater Chicagoland area and beyond.
Q: What's your idea of service excellence?
Excellent service is provided by caring for the customer and understanding their specific needs while making every effort to exceed their expectations. It starts with listening to our customers, really listening – and not just waiting for our turn to speak or message back to them but instead diving into what our clients are telling us and formulating solutions for those specific needs. Engaging customers and making them a part of our process when working on their vehicle is vital and helps them feel at ease as we work with one of their most valuable assets. To me service excellence is conveying to customers just how special it is that they are entrusting us with their vehicle and sharing how seriously we value them choosing us for their visit this time and in the future.
Q: Do you have any advice for new service customers?
It is 2019 and we know well that many repair facilities can offer you a service for your INFINITI. 

At Berman INFINITI we want to provide you the total ownership experience you deserve in service and want to welcome you into our home here, making you feel completely comfortable with your time with us as your entrust us with your vehicle – from simple routine maintenance, more extensive repairs or just a car wash we want you to feel at ease while your vehicle is in our hands. Please don't hesitate to reach out to me directly with any questions on your new INFINITI or if you are a newly servicing customer on an INFINITI you have owned for a while and are just visiting us for the first time now. Thank you for the opportunity!